OK. I'm here to write for a minute.
Volunteering for The Ironman
Wow.
It was one of those most profound experiences in life. Helping others achieve their goals and dreams...
The night before, I could hardly go to sleep even though I knew the next day's schedule would be grueling. I must have woken up every 15 minutes between 11pm and 2:45am, but I was full of energy and sprang right out of bed.
When we got to the area where we would be doing our body marking, it was 4am and other volunteers were starting to show up. The team captain was kind of a goof ball lady that looked exactly like I thought she would.
I'm all about having a good time while I work and everything, but through emails, she had expressed how she wanted everyone to dress up in 70's attire, disco clothes and all that. She was dressed in a head to toe, tight, but you wished it wasn't, tie-dyed, body suit. She looked kind of like a clown. Of the 25 or so body marking volunteers, only about 4 dressed to the hilt. Everyone else was there in "normal" clothing ready to work. My friends and I knew we were going to be there all day since we had volunteered for so many other departments, no way were we going to costume out.
It was HIGHLY unorganized. there was no rhyme or reason to how the athletes should come to us, but all 2,200 of them HAD to. Somehow, we got the job done.
Bodymarking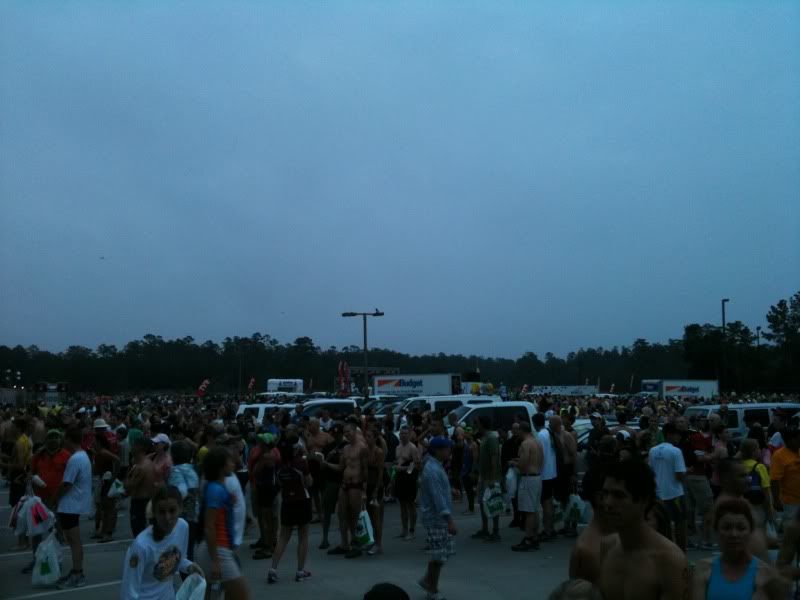 Off to the race start!
AS soon as we were finished, I made my way to the bridge which crossed the lake directly above the start line. I climbed up on the rail of the bridge and wobbled there for 20 minutes so I could video the start. The energy was AMAZING! The music was jamming and the athletes were making their way into the water.
2,200 swimmers treading water, waiting, pumped, psyched, scared, ready to get the show on the road. We knew the time was near when the droning guitar riff for Black Sabbath's "Ironman" came on. The crowd and athletes went nuts. At the end of the song, the gun went off and the racers took off.
Crazy!
We made our way to the next part of our day: Wetsuit stripping. When the athletes complete the 2.4 mile swim, they come out of the water, lay on the ground, and we rip the wetsuits off.
EXCEPT, the captain saw me and my friends and decided to put us on the rail. The rail was a group of stairs the athletes climb to exit the water. They were steep, and the athletes were exhausted so we would give them a hand and help them out.
I gotta tell ya, it was incredible, like being a midwife or something helping someone give birth.
It was almost spiritual. Probably my favorite part of the day.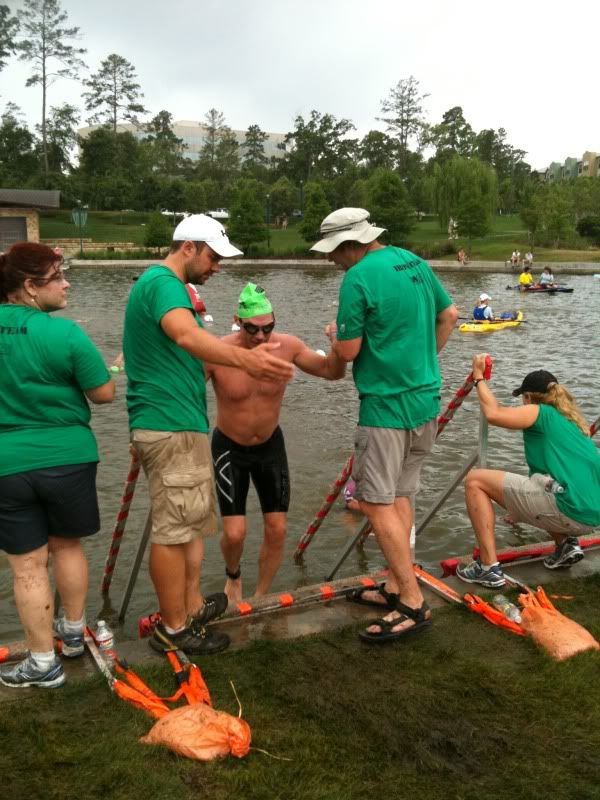 There is a time cutoff for each part of the race. For the swim it is 2 hours and 20 minutes. That's a lifetime in the water, but some people unfortunately don't make it in time. One of the most energetic moments during the swim was when that clock was ticking down and the LAST person to make it was coming around the corner. Everyone was going nuts! Some Journey song was blaring, "Don't stop believing". He made it by about 15 seconds.
Unfortunately, the guy behind him MISSED the cutoff by about 20 seconds.
At that point, they take your timechip and you are done. You don't get to compete in any of the rest of the race. Bummer.
Very sad...
I found a Youtube video of the action. I'm in the middle somewhere...
After this, we had a little downtime, so we got something to eat and decided what to do next.
This is transition before the athletes get in from the swim: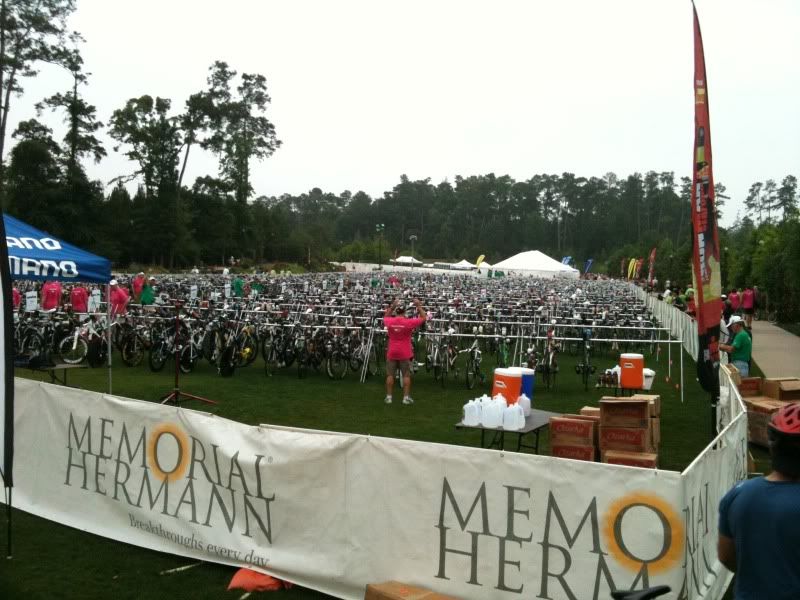 And after:
We were on our way to our assigned run course water station, when an Ironman official asked us to man an uncontrolled intersection just before the bike finish. It was cool for a while because we got to see Chris Lieto, the number one cyclist in triathlon finish a full 8 minutes ahead of ALL the other pro athletes. Later, during the run, he had to drop from the race with an Achilles injury.
We manned that intersection for about two scorching hours before we finally moved on to an ice cream store for a break. haha
We decided to head to the finish line early to sign in and get our volunteer tee shirts. In restricted areas like that, the tee shirts were color coded and you had to have them on to get in. Kinda cool, I got two shirts out of the deal. IRON TEAM haha
After registering, we hung out with some friends who were the family of a racer. I know this racer from a race we did together a couple of years earlier.
Before, this guy was a runner. I remember back then he has so nervous about that 300 yard swim. haha
He KILLED the Ironman in under 12 hours. Awesome for a first timer.
When we finally saw him pass on the run course, we took a break for dinner. Mexican food.
With nothing better to do, we decided to go early to our post at the Finish Line.
Let me tell you: another AMAZING, spiritual experience.
Almost every athlete that came through was staggering and in a state of total exhaustion. We had a routine for escoting the athletes as they came through the line, give them a water bottle, guide them to the a person that would put the Ironman Finisher medal around their neck, guid them to get their picture taken, guide them to the Time Chip retriever, then escort them out of the area while explaining where the massage area was, medical, and athlete refreshments were.
It was a little bit assembly line... I would rather have been able to spend more time with each athlete, but there were more that 2,200 of them finishing throughout the night. We had to keep it moving.
For those that needed medical attention, and let me tell you, there were a LOT, wheelchairs were waiting to take them to the medical area pronto.
There were also medical personnel at the line to asses each athlete. It was quick paced, but they took care of everyone.
Here are some pics:
Medals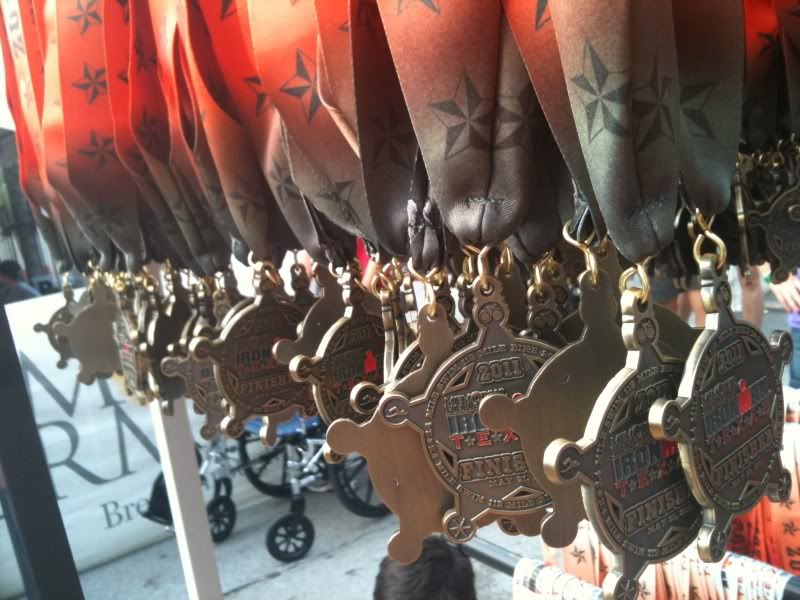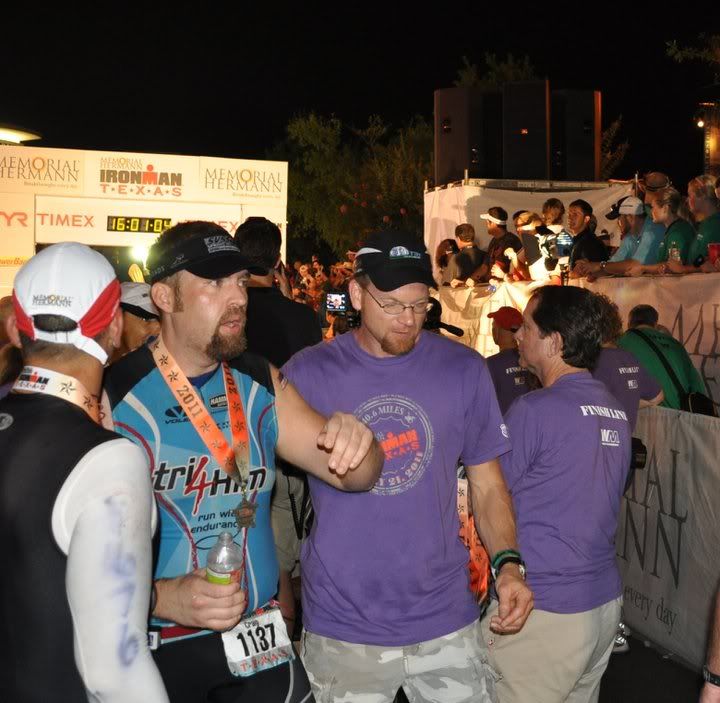 FINAL finisher before the cutoff.
We escorted this guy to medical.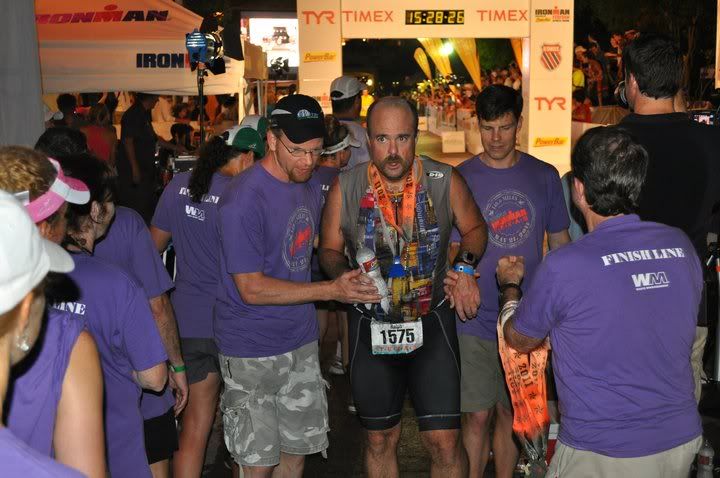 At one point towards the end of the race, my friend and I escorted a very dehydrated athlete to medical. It was the first time I had been.
WOW. It was something of a triage with hospital beds spread throughout a warehouse area, maybe over 3000 or 4000 square feet. There was not a single empty bed. It looked like something out of a movie...
Back at the finish line, it was a HUGE party until midnight, the official cutoff time. 17 yours some of these racers had taken. 17 hours! That's a long time to exert yourself...
This guy made it with less thn 5 minutes to spare:
http://youtu.be/anc1P-A9s2A
There were a few racers that didn't make the cutoff, but they still made there way through the finish line.
The officials that were calling the names of each athlete as they crossed the line were saying that this Ironman Texas was the biggest crowd they had seen since Kona, Hawii '99.
Apparently, and this makes me proud, Texans like their triathletes!
It makes me happy, because I just KNOW that with this sort of exposure, and acceptance, Ironman will pronbably be here much longer than the slated 5 year contract.
One can hope!
Sunday, my friends and I went back to the Woodlands with our volunteer tee shirts and signed up for Ironman Texas 2012.
It sucked to drop $656, but it's on!
One year from now, I will be an Ironman.
KoP