This entry is also a day late...
So today, we went up in to Montana. While is was beautiful and mountainous, it just wasn't Wyoming so we drove back into Yellowstone Wyoming and decided we'll just stay an extra night and leave from here. There is still a lot to see.
We took the doors off the Jeep around lunchtime, and man, that was just a whole different experience up here in the mountains being able to see over the cliff edges and all.
When we came back into the park from Montana, we decided to stop at a hotel in Mammoth Springs and get a shower. It only cost $4.25 each plus $1.00 for a towel. haha
THAT was different, but WELL worth it. Being really clean on a backpacking trip kind of doesn't happen.
While I was waiting in the Jeep for Amy to come out, a buffalo had moseyed right up to me. No biggy, I was more or less hanging out of the Jeep so I decided to shoot some pics of it. Even with the doors off, I knew I could jump to the other side if the huge thing got a little crazy. Well, these guys started walking up the street and got between the buffalo and the rest of it's herd which was about 150 feet away.
I guess that's why it charged them. I got one shot before I just looked on thinking I was about to witness my first goring. They freaked out and ran of course and the buffalo decided to stop it's pursuit to join the rest of the herd.
Scary, but funny.
This is
just
as he started taking off after them.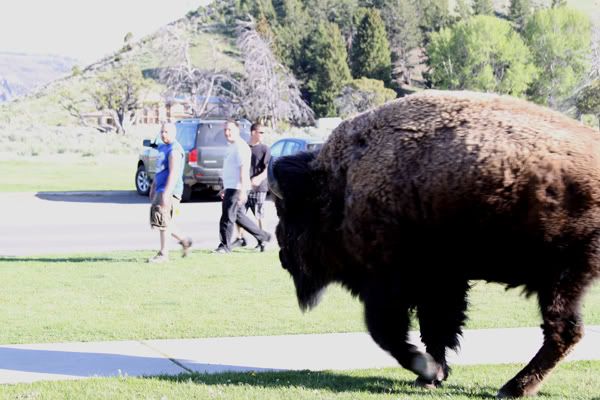 So after this, we were told about a part of the park that has tons of wildlife called Lamarr valley, or something like that near the Northeast entrance. We saw lots of buffalo, elk, WOLVES, coyotes, an injured mother moose and her newborn baby, and a beaver, but no bear. Since we saw our first Black Bear on our way up to Mammoth, we now
need
to find a Grizzly bear.
Also, I have camera lens envy. There were so many photographers out there with super-duper-high-end lens, mine felt a little puny. I WANT one... or two...
After all that, we got back to camp around 11pm. Too late to eat, and too late to build a fire... but we did anyway.
Ok, I gotta roll.
KoP